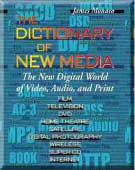 The Dictionary of New Media
by James Monaco


"...takes us virtual people through the digitized world of acronyms, initialese and sometimes happy metaphor."
—William Safire, New York Times Magazine
---
Your complete guide to the digital revolution now sweeping film and media into the new millenium, The Dictionary of New Media covers thousands of terms that you need to know in digital media, film, television, and print.

If you've just bought your first digital camera, or a DVD-Video deck, or you're curious what the future holds for HDTV (High-Definition Television), or you're thinking of investing in some Home Theatre Equipment, or your new computer came with a DVD-ROM drive, or you need to know what the difference is among all those new audio formats-- MP3, DAM, DVD-Audio and SACD‹or you wonder why you should you care whether the movie is in SDDS, DTS, or Dolby Digital (and what the hell is THX anyway?!), or you're wondering whether a DSS dish is for you or you should stick to cable, and if you do stick to cable, should you invest in the new cable modem or tell the phone company you want DSL (and if they don't have DSL will your techy friends laugh at you if you install an ISDN line?), or you swear you can't tell the difference between Foley and ADR (let me put that another way: do you get your Honeywagons confused with your Abby Singers?), or you want to know how JPG is different from TIFF or MPEG, or you were embarrassed at work the other day because you ftp'ed a file when you should have http'ed it, well...The Dictionary of New Media is what you need.

A comprehensive introductory essay provides an understandable guide to today's digital revolution. More than 2,400 entries cover the many new terms that have entered the language in the last few years, and also survey the basic technical, critical, and professional language of film, television, and print. Comprehensive cross-references link related essays to provide a clear path to understanding.


About the Author
James Monaco is author or editor of more than a dozen books on film and media, published in more than 35 editions, including American Film Now, The New Wave, The Connoisseur's Guide to the Movies, The Film Encyclopedia, Media Culture, and Celebrity. He is president of UNET 2 Corporation, a developer of Internet software, and publisher of websites and DVD-Videos. He is also the founder of Baseline, the worldwide information source for the entertainment business. An experienced TV talk show guest and radio commentator, Monaco is also well-known as a pioneer of the electronic publishing industry.